Britain delays long-awaited vote on the future of Brexit
Comments
By Alexander Smith with NBC News World News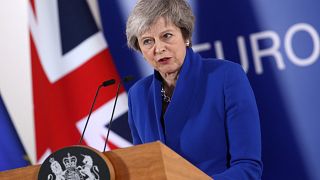 -
LONDON — British Prime Minister Theresa May announced Monday that she has postponed a pivotal parliamentary vote on her Brexit deal.
May was facing a crushing defeat in the House of Commons vote that was originally slated for Tuesday. Scores of her own lawmakers openly opposed the withdrawal agreement that she negotiated with the European Union.
The British public voted to leave the E.U. in June 2016, with the separation becoming official on March 29 next year. Had it passed through Parliament, May's deal would have set the terms for Britain's divorce with other 27 member states.
May told lawmakers that if the vote went ahead as planned "the deal would be rejected by a significant margin."
She said that while many aspects of her plan enjoyed "broad support" among her colleagues, she acknowledged that the question over the Irish border continued to provoke "widespread and deep concern."
Earlier Monday, Europe'stop court ruled that Britain could effectively cancel Brexit without asking the rest of the E.U. first.
This is a breaking news story. P lease check back for updates.