Europe's Socialists choose their leader for May's Parliamentary elections
Comments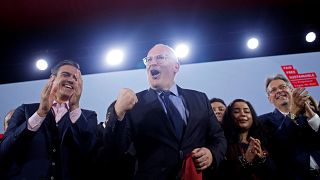 Copyright

REUTERS/Pedro Nunes
Frans Timmermans has been nominated to lead the Party of European Socialists into next year's European Parliamentary elections.
The former Dutch foreign minister who is now vice president of the European Commission was the only person on the ballot at the socialist congress in Lisbon. He told Euronews that if violence uprisings such as those seen in France are to be avoided, alternative policies are needed.
"Violence is never the way,", he said. "Dialogue is the way forward and we offer dialogue to make sure that we address the issues that people are worried about"
The Portuguese Prime Minister António Costa told the congress that the European model of wealth redistribution through taxation needed to be defended.
"The fiscal system is and keeps on being the instrument to redistribute riches," he said "to finance social welfare, with good schools and good hospitals, good social support, and this is social Europe".
Bringing the congress to a close, Timmermans said next year's European Parliamentary elections come at a critical time for the continent.
"These elections in May, my friends, are not ordinary elections," he said. "These are the elections with the most at stake since direct elections to the European Parliament were introduced in 1979. These elections are about the soul of Europe."
The conservative European People's Party has chosen Manfred Weber to lead its list against Timmermans.