'Dark day' as final rescue ship stops patrols on world's deadliest migrant route
Comments
By Alexander Smith and Reuters with NBC News World News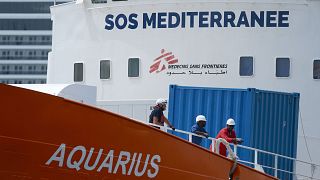 -
LONDON — The Aquarius was the last search-and-rescue ship operating in the world's most deadly migration route, saving almost 30,000 people from the Mediterranean Sea since 2016.
On Friday, the charity that runs the vessel said it was being forced to end its work, blaming "smear campaigns and maneuvers to undermine international law" by governments in Europe.
"This is a dark day," Nelke Manders, said general director of Médecins Sans Frontiers, which is also known as Doctors Without Borders. "The end of Aquarius means more deaths at sea, and more needless deaths that will go unwitnessed."
As migration levels soar around the globe, nowhere has been more dangerous than the Mediterranean for those fleeing conflict in the Middle East and Africa or seeking better lives in Europe.
More than 2,100 people have died this year alone, the overwhelming majority leaving from Libya.
Euronews documentary
The Aquarius, which was jointly operated by MSF and SOS Méditerranée, was the last humanitarian vessel attempting to rescue people making the journey.
Other ships have been detained by Italian and Maltese authorities on charges ranging from illegally aiding migrants to not being properly registered.
A lone holdout, the Aquarius was recently accused of illegally dumping potentially dangerous medical waste and was twice stripped of its registration, which MSF likened to "tactics used in some of the world's most repressive states."
The group said several governments were to blame, but singled out Italy, whose hard-line nationalist interior minister, Matteo Salvini, says other countries should accept a greater share of migrants.
Salvini alleges rescue ships like the Aquarius encourage more migrants to take to the sea. He has repeatedly closed Italian ports to the Aquarius, forcing it to sail for days while carrying migrants to find ports in other countries.
In addition, the European Union has increased cooperation with the Libyan coast guard to intercept people attempting to leave, a policy criticized by the United Nations as "inhuman." Returning them to Libya, MSF said, exposes people to "arbitrary detention, violence, and unsafe conditions."
Italy's ISPI think tank warned in October that closing ports had actually increased the number of deaths at sea. For the past two months, the Aquarius has remained at port in Marseille unable to work.
World news
"This is the result of a sustained campaign, spearheaded by the Italian government and backed by other European states, to delegitimize, slander, and obstruct aid organizations providing assistance to vulnerable people," MSF said.
Maders added: "Not only has Europe failed to provide search and rescue capacity, it has also actively sabotaged others' attempts to save lives."