Watch again: NATO chief says increased enforcements sends a clear message to Russia
Comments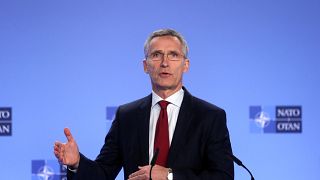 NATO Secretary-General Jens Stoltenberg says extra resources it has sent to the Black Sea sends a clear message to Russia.
Talking about its presence in the Black Sea, he said: "We have significantly increased our presence there ... we support Ukrainian armed forces in different ways with commander control, with cyber, some allies also provide training in different areas. NATO helps them strengthen their naval capabilities."
"We will of course very closely monitor and watch the situation in the Black Sea after the incident we saw a few days ago," he added.
His comments come after Russia seized Ukrainian sailors and three naval vessels in a confrontation in the Black Sea on the 25 November.
Russia's Federal Security Service (FSB) said it had been forced to act because the ships had illegally entered its territorial waters, attempted illegal actions, and ignored warnings to stop, Reuters reported.
The FSB said three Ukrainian sailors were wounded in the incident and were getting medical care but said their lives were not in danger.
Ukraine denied its ships had done anything wrong.
The clash has increased tension over Crimea, which Russia annexed from Ukraine in 2014.
NATO is in the process of implementing big enforcements because of Russia's aggression against Ukraine, Stoltenberg added.
"We have battle groups in the eastern part of the alliance for the first time in our history, we have the Romanian-led multi-national brigade in Romania, we have air policing in the Black Sea, and we have more naval presence, so all of this sends a very clear message from NATO and NATO allies to Russia," he said.
When asked a question by a journalist about Georgia, he said: "In general I can say we strongly support Georgia on its path towards NATO membership, and NATO heads of states and government, they stated as late as in July that Georgia will become a member of the alliance.
"We continue to provide support to Georgia to implement the necessary reforms. We commend the progress Georgia has made and we continue to work with Georgia," he added.