NATO set to meet over Ukraine-Russia crisis
Comments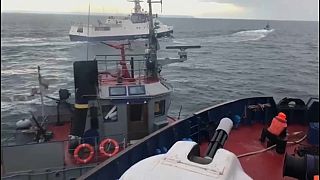 Russia's recent attack on Ukrainian naval vessels will likely top the agenda at a NATO meeting in Brussels.
Kiev has warned that the risk of an all-out war with its neighbor is dangerously high after Russia fired on its vessels in the Azov Sea and seized several Ukrainian sailors last week.
Moscow has blamed Ukraine for what it called a 'provocation' and says it intends to award state honours to the border guards involved in the clash. 
It comes as Germany said it will not withdraw its political support for the Nord Stream 2 gas pipeline with Russia. 
Some lawmakers suggested curtailing the project to punish Moscow for its seizure of Ukrainian ships and their crew.
Ukraine has already called on NATO to send warships to the Azov Sea, but Euronews correspondent Damon Embling, says he's not sure if NATO will agree: