Luke Skywalker's lightsaber could fetch $200,000 at auction
Comments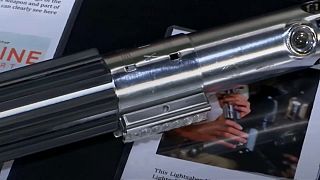 Luke Skywalker's lightsaber from the first "Star Wars" film - one of the most iconic movie weapons - is going up for auction in Los Angeles next week and could fetch up to $200,000.
Auctioneers Profiles in History said on Monday (November 26) it also is selling some 25 other "Star Wars" items, including an original black TIE fighter pilot helmet from the first, 1977 movie that could fetch even more money - up to $300,000.
"Star Wars" movies make billions of dollars at the box office worldwide and props and costumes from the sci-fi saga can fetch sky-high prices at auction.
A complete R2-D2 droid used in the first, 1977 movie sold for $2.76 million in 2017, and a different lightsaber used by Skywalker fetched $450,000 last year.
Profiles in History called next week's offering unprecedented for "Star Wars" memorabilia.
The lightsaber up for auction was used by actor Mark Hamill's young Skywalker character in "Star Wars: A New Hope" and was designed by Oscar-winning set decorator Roger Christian.