Japan's corporate investment slows sharply, raises doubt about outlook
Comments
By Reuters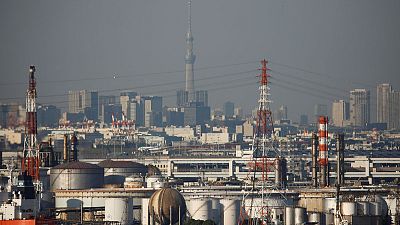 -
By Tetsushi Kajimoto
TOKYO (Reuters) – Japanese corporate capital expenditure rose for an eighth consecutive quarter in July-September but the pace of gains slowed sharply, raising doubts about the strength of business activity amid global trade frictions.
Ministry of Finance (MOF) data out on Monday showed capital expenditure grew 4.5 percent in July-September from the same period last year, led by chemicals, production machinery, information and communications. It slowed from a 12.8 percent gain in the previous quarter.
Excluding software, capital expenditure fell 4.0 percent in July-September from the previous quarter on a seasonally-adjusted basis, down for the first time in five quarters.
Economists said the data, which will be used to calculate revised gross domestic product figures due on Dec. 10, pointed to a downward revision to the third-quarter GDP.
"The July-September GDP contraction will likely turn out deeper than initially estimated," said Toru Suehiro, senior market economist at Mizuho Securities.
"There may be a temporary rebound from the slump caused by natural disasters, but external demand remains sluggish due to slowing global growth, which will dash hopes for strong recovery."
Capital expenditure has been a bright spot in the world's third largest economy, as companies refurbish their old equipment and boost investment in automation and labour-saving technology to cope with labour shortages in an ageing society.
A preliminary estimate out last month showed Japan's economy contracted by an annualised rate of 1.2 percent in the third quarter due to natural disasters and sluggish external demand.
Economists expect Japan's economy to return to growth in the current quarter, but a recent mixed batch of indicators casts doubt about the strength of economic recovery.
A revised survey released on Monday showed Japanese manufacturing activity expanded in November at the slowest pace in more than a year as growth in new orders slowed, a sign economic growth may be subdued in the fourth quarter.
The rising tide of global protectionism has fuelled concerns about the economic outlook, although an agreement between China and the United States on Saturday to shelve any new tariffs has provided some relief for worried investors.
Monday's MOF data showed corporate recurring profits rose 2.2 percent in July-September from a year earlier, up for a ninth consecutive quarter, although they slowed sharply from the previous quarter's 17.9 percent annual gain.
Corporate sales rose 6.0 percent year-on-year in July-September, up for an eighth straight quarter.
(Reporting by Tetsushi Kajimoto, editing by Eric Meijer and Sam Holmes)