Nationalists in Madrid demonstrate against Catalan independence movement
Comments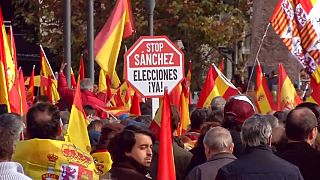 Thousands of people have taken to the streets of Madrid in support of national unity and against Catalonia's ongoing campaign to split from Spain.
Prime Minister Pedro Sanchez's more conciliatory tone towards the pro-independence government in Barcelona has created anger among nationalists.
"We are losing out," says Economist Jesus Garcia. "Because we have a government that puts Spaniards against Spaniards, by stirring up issues like the Civil War and the Historical Memory law. And we are losing out because the government has the support of separatist parties. This is a great loss for Spain."
"If we continue like this? Spain is going to break up," says this demonstrator. "Spain is going to break up into a thousand pieces. The separatist groups, that are not the majority, although people think they are, they are going to get what they want."
Sanchez came to power earlier this year with the support of Catalan nationalist parties. They voted with him in a no confidence motion against the former Prime Minister Mariano Rajoy after a corruption scandal within the conservative People's Party.