France considers introducing state of emergency after Paris riots
Comments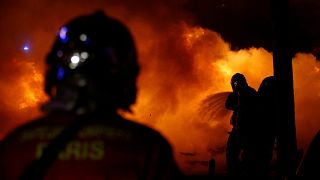 Copyright

REUTERS/Stephane Mahe
France is considering introducing a state of emergency after Saturday's riots in Paris and demonstrations across the country in protest over fuel prices rises and the cost of living.
The French capital suffered the worst unrest for more than a decade, with homes burnt, shops looted and clashes with police.
Speaking at the G20 summit, the French President, Emmanuel Macron said the culprits would be punished.
"Those guilty of this violence don't want change," he said. "They don't want things to get better: they are traitors to the causes they pretend to serve and they manipulate them. They will be identified and held responsible for their actions."
But back in France, yellow Vest demonstrators blamed President Macron for failing to offer concessions to calm the situation.
"He gave us a lecture, and he didn't offer anything concrete," said one woman. "So for now, I'm on the streets for a peaceful demonstration, I don't support the thugs at all. I'm not here to smash things. Blockades are essential for a revolution, but there shouldn't be wrecking. As I've said to the riot police, it's not the yellow vests who are doing the wrecking. It's been the thugs, the ultra-right, the black bloc."
Tear gas, water cannons and stun grenades were used to combat the violence at the top of the Champs-Elysees. Around 300 people were arrested and 110 injured, including 20 members of the security forces.
The shops should have been busy with christmas shoppers. Instead retailers returned to clear up the mess.