Leaders express gratitude, respect for George H.W. Bush
Comments
By Dennis Romero with NBC News U.S. News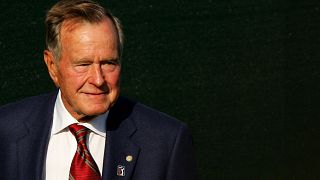 -
American luminaries expressed respect and gratitude for former President George H.W. Bush, who died Friday at age 94.
In tweets and statements, they expressed respect for his leadership, public service and love of country.
President Trump and first lady Melania Trump said he "set the stage for the decades of prosperity that have followed."
"With sound judgement, common sense and unflappable leadership, guided our Nation, and the world, to a peaceful and victorious conclusion of the Cold War," the Trumps said in a statement Friday night.
Former President Barack Obama and former first lady Michelle Obama said, "While our hearts are heavy today, they are also filled with gratitude."
"Not merely for the years he spent as our forty-first President, but for the more than 70 years he spent in devoted service to the country he loved — from a decorated Naval aviator who nearly gave his life in World War II, to Commander-in-Chief of our Armed Forces, with plenty of posts along the way," the Obamas said in a statement. "George H.W. Bush's life is a testament to the notion that public service is a noble, joyous calling."
Bush's grandson, George P. Bush, tweeted, "My grandfather was the greatest man I ever knew. His life spanned the American Century—he fought in World War II ... took part in the Texas oil boom ... served out a distinguished career in public service including serving as president during the final days of the Cold War."
James A. Baker III, who served as Chief of Staff and Secretary of State under Bush and who Bush counted among his closest friends, said he "will be forever etched in the history of America and the world."
"It is a lifelong record of selfless patriotic service to our nation," he said. " ... He led with strength, integrity, compassion and humility — characteristics that define a truly great man."
Fred Ryan, chairman of the board of the Ronald Reagan Presidential Foundation and Institute, called the leadership of former President Reagan and Bush, who served as his vice president, "a remarkable partnership."
"As they reignited the U.S. economy, battled tyranny across the globe and restored America's pride and purpose, President Reagan relied on his vice president's calm, strength, loyalty and wisdom," Ryan said. "In all that the administration achieved, President Reagan once remarked, 'no one has been closer to my side and has contributed more to our success than George Bush."
In a statement Bush's vice president, Dan Quayle, said he always looked up to his former boss.
"I have often told my children, 'If you want a role model in your life — look to President George Herbert Walker Bush,' he said in a statement. "The world mourns the loss of a great American. But, it also celebrates a life well lived."
The nonprofit founded by Bush, Points of Light, tweeted that he was "a kind, compassionate and humble man; a leader who believed in service for the betterment of society."
"We join millions across the country and around the world in celebrating his life and legacy tonight," the organization said.
Apple CEO Tim Cook said on Twitter that Bush was dedicated to the American people.
"We have lost a great American," he said. "Service defined President George H.W. Bush's life, and he taught all of us about leadership, sacrifice and decency."