Tropical snake makes appearance in Lapland toilet bowl
Comments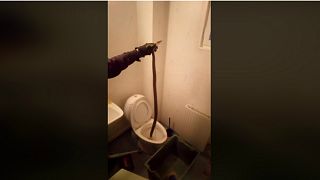 Copyright

Facebook/Johan-Martin Spik Skum
Tropical snakes are not a normal sight for people living in northern Europe. So imagine the fright one man in Lapland had when he found one in his toilet.
Johan-Martin Spik Skum said he was just undergoing his nightly bathroom routine at his home in Lapland, Sweden, when he found the critter.
"I did not have my glasses and I didn't turn the light on," he told Euronews. "When I flushed, the water rose and I didn't know what the cause was."
"So I went to get my glasses and turned on the light only to see a snake stare back at me."
When asked how he reacted after realising he was face-to-face with a snake, Spik Skum said all he could "think in the moment was, 'huh...I peed on a snake,' before smacking the toilet lid shut."
"The rest of the night was a nightmare," he added. "I am terrified of snakes."
Spik Skum posted several videos of the encounter to his Facebook page, including one (shown below) of a group attempting to retrieve the snake from the toilet bowl.
His neighbour was drafted in to help with the rescue after it transpired that the snake, in fact, belonged to him. It had escaped while its enclosure was being cleaned. 
The snake is actually a Brazilian rainbow boa, which is native to Central and South America, and certainly not one to be found in the wild in Lapland.
Despite spending a cold night in the toilet bowl, the snake is doing well, Spik Skum said. 
"I spoke to my neighbour and he reassured me that it would never happen again. So we are on good terms at least."