At least 5 middle school students taken to hospital after eating marijuana-laced gummy bears
Comments
By Janelle Griffith with NBC News U.S. News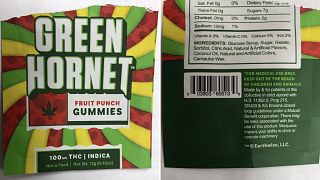 Copyright

Polk County Sheriff's Office

-
At least five Florida middle school students were hospitalized Thursday after eating gummy bears laced with marijuana, authorities said.
A 12-year-old boy, whose identity was not released, allegedly handed out the gummy bears during the school's gym class. He was charged with one count of possession of THC or marijuana resin, six counts of distribution of THC within 1,000 feet of a school and possession of paraphernalia.
According to authorities, the boy gave the gummy bears to six 7th-graders, two boys and four girls, all of them were 12 years old.
"They had stomachaches; they were nauseous, dizzy," the sheriff said. "One of them was all but passed out."
The boy who allegedly handed out the gummy bears told authorities "a couple of different stories" about how he came into possession of the "Green Hornet" fruit snacks, the sheriff said, including that he ordered them online and that they were given to him on a school bus.
"We're concerned as to, one, how did a 12-year-old ever come to be in possession of this drug — this illegal drug in the state of Florida," Judd said. "And, two, why did he offer it to these six kids?"
The sheriff said the boy's parents are cooperating with the investigation.
Polk County Public Schools superintendent Jacqueline Byrd, who attended the news conference, urged parents to talk to their children about drugs and their activity online.
"We want to make sure everyone is safe when they come to school each and every day," Byrd said.
The incident highlights concerns of some medical professionals about the risks of edible marijuana to children at a time when more states are loosening their laws against the drug, leading to edible forms becoming more widely available.
Marijuana ingested in an edible manner can have a stronger and prolonged effect, especially in children under the age of 12, according to Children's Hospital Colorado.
Officers responded to Mulberry Middle School on Thursday afternoon following reports that several students had a negative reaction after eating the marijuana-laced gummy bears, Polk County Sheriff Grady Judd said at a news conference.
Five students were taken to the hospital and one was picked up by her parents to be medically treated elsewhere, the sheriff said. The boy who allegedly handed out the gummy bears told officers he did not eat any.