Sculpture made with 100,000 blades highlights UK knife crime problem
Comments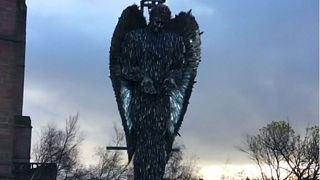 Some 100,000 blades confiscated by British police have been used to craft an 8-metre-tall angel sculpture in Liverpool, northern England, in a bid to highlight knife crime in the country.
The "Knife Angel" at Liverpool Cathedral pays tribute to the people, often very young, who have lost their lives or have been affected by knife crime in the country.
Designed by Alfie Bradley, it weighs five tons and took more than a year to build. 
Bradley, a 28-year-old artist specialising in ironwork, said he used various weapons to make the angel.
 "I've had all sorts — machetes, meat cleavers, swords, even normal kitchen knives, which is really sad because often it is just normal kitchen knives taken from a kitchen", he said.
Bradley told local media he made the piece to create "awareness of knife crime in the UK, and the damages it causes to families all around." 
He hopes it will "make people realise not to use" blades.
Early visitors of the "Knife Angel" shared their pictures of the artwork on social media, with the hashtag #nomoreknives.
The Knife Angel was created as a national monument against violence and aggression and is funded by the British Ironworks Centre in Shropshire, according to Bradley's website. 
It will be on display in Liverpool until January 31.