Cliff-diving at South America's largest freshwater lake
Comments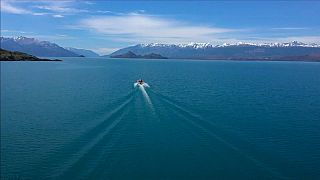 Jonathan Paredes and Rhiannan Iffland become the first cliff divers to take to the water at the remote Lago General Carrera in Chile.
Mexico's Parades and 27-year-old Iffland of Australia returned to dive into South America's second largest freshwater lake, home one of the world's most isolated natural treasures, the Marble Cathedral, after scouting the region last year.
Following her third Cliff Diving World Series title, and Parades third place finish in the men's championship, the pair chose the lake in central Patagonia as the venue for their final dives of 2018.
After travelling by boat from the town of Puerto Tranquilo the divers used ropes to climb the 20 metres to the take off spot where they launched from the cliffs south of the blue caverns of the Marble Cathedral to land in the 7 degrees Celsius cold glacial turquoise water.