Battle is on to replace Chancellor Angela Merkel
Comments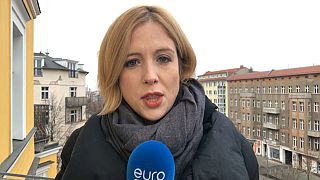 The race to succeed Angela Merkel as leader of Germany's ruling conservatives, and take pole position to succeed her as chancellor, is going down to the wire.
Two frontrunners have emerged with opposing visions for the Christian Democratic Union (CDU) since Merkel said last month she would step down as party chief following a regional election setback.
One is Annegret Kramp-Karrenbauer while the other is Friedrich Merz, a long-time Merkel rival who promises more radical change.
Kramp-Karrenbauer, who was leader of the state of Saarland for nearly seven years, leads in polls of party supporters. But Merz, who is returning to politics after a decade in business, is a close second and is backed by CDU members who want an end to Merkel's consensual politics and love of compromise.
Correspondent Jessica Saltz in Berlin says Annegret Kramp-Karrenbauer is the preferred candidate of Merkel.
"I don't think it's any secret she wants her as that would be an incredibly harmonious relationship," she explains.
The outcome of the vote for a new leader at a party congresson Dec. 7-8 is crucial not only for the CDU, which governs in a three-party coalition, but also for the future of the European Union's dominant country and biggest economy.
Merkel remains chancellor but whoever takes over the CDU is likely to be its candidate in the next federal election, due by October 2021.