Baba from Afghanistan: If you pay the money the people smugglers will take you across the border
Comments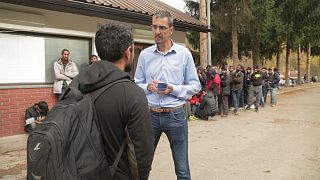 In the former Hadzici military baracks close to Sarajevo, transformed into an official accomodation center for migrants and refugees, Euronews reporter Hans von der Brelie met "Baba" (a given name) from Afghanistan. The young man speaks seven languages and worked as a translator with the US soldiers there. When the Taliban kidnapped his brother and threatened "Baba's" life too, he decided to leave. For security reasons "Baba" prefers to speak up anonymously.
Euronews
Why did you left Afghanistan?
Baba:
I worked as a translator for US soldiers in Afghanistan. In our town we had a lot of Taliban people and they did not like this. The Taliban told me three or four times not to work with the Americans, but I did not listen to them. They kidnapped one of my brothers. After that they called me three times and threatened me. So I decided to leave the country. I do not have any other option.
Euronews:
Was there a real risk for your life?
Baba:
Yes. There was a real risk. They attacked me three times by guns. I survived a bomb blast.
Euronews:
How did you manage to come to this place here in Bosnia and Herzegovina?
Baba:
It is not so difficult. I have some money and I gave it to the agents. Of course, it was difficult on the road, there was a lot of rain. I never experienced a travel such as this one. I never have seen that kind of things in my whole life, people walking through forests, through rivers... I paid money to cross countries one by one. This is how I managed to come to Bosnia.
Euronews:
First you went by plane to Iran. And afterwards?
Baba:
From Iran I went to Turkey by walk. From Turkey to Greece I went by walk or by car. I crossed some forests. From Greece I went to Serbia and from Serbia I came to Bosnia.
Euronews:
What was the amount of money you had to pay for this travel?
Baba:
For this travel it was 5.300 Euros.
Euronews:
What did you experience, what did you witness during this travel?
Baba:
When you are in the forest or when you have crossed a river and you become sick and you can not walk any longer, nobody will help you. They will let you there. Nobody will give you water to drink, nobody will give you food to eat. If somebody has something to drink or to eat, they will not give it to you. This is so difficult. In the night the temperatures are so cold and you can not put anything on you, it is so difficult to sleep. I was in danger. Sometimes I am thinking to be caught in a dream.
Euronews:
Since quite some time now the European Union is closing its borders. It is not easy to access the territory of the European Union. How do you manage this?
Baba:
Many people are going through Croatia by walk in the forest. It is difficult to go there, but the biggest problem is about money. If you pay the money, they (the people smugglers) will take you with themselves to cross the borders by walk, into the forest, in the rain, crossing the rivers... You have to take this risk, but they will take you with themselves to cross the border, but you need the money (to pay them).
Euronews:
What is your professional and personal dream regarding your future?
Baba:
I want to be in France and I want to work as a translator. I can speak seven languages. I want to be translator helping refugees like me. At every occasion, in every refugee camp I help other people, because they have difficulties to express themselves in other languages. If I am successfull I want to take my family from Afghanistan to settle in France and to work there, that is the main thing I want.