Artist transforms racist graffiti to have positive message
Comments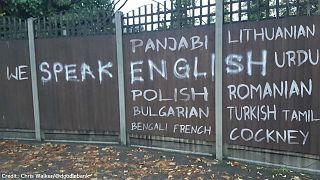 Copyright

Credit: Chris Walker/@doodlebank
A UK artist has transformed a piece of racist graffiti that appeared on a fence in his town, giving it a more positive message.
The vandalism in Walthamstow, north London, read "we speak English" and was one of a string of racist graffiti that had appeared in the area.
Taking to Photoshop to make the changes, Chris Walker edited a photo of the site so the text read "we speak", before adding a further 11 languages to reflect the multicultural area.
Social media users congratulated Walker on his design, saying they preferred his positve take on the orignial.
"Thank you for finishing it, I saw it the other day, and I much prefer your version of it," said Marvo.
Others suggested extending the languages included on the wall: " Can we add love to the languages spoken? No? Too cheesy?" wrote Anne Marie Silbiger.
Local Labour MP Stella Creasy also retweeted the picture.
While the white, working-class majority in the area in the 20th century has steadily diminished, immigrant communities have settled in Walthamstow, leading to many languages being spoken there.