Swedes launch campaign asking people to give up air travel in 2019 | Raw Politics
Comments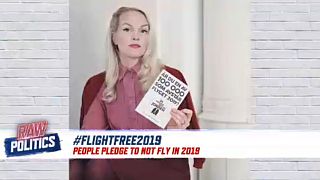 As world leaders prepare to fly to Poland for a conference on climate change next week, two Swedish mums are spearheading a campaign to get people to refrain from flying all of next year.
Maja Rosen and her neighbour have launched the campaign asking people to pledge to give up air travel for the duration of 2019 to help stop their contributions to greenhouse gases. 
Speaking to the Raw Politics panel via Skype, Rosen said she believes air travel is one of the things people are least willing to give up, and therefore by joining the campaign, "it's like a statement that you take the climate crisis seriously." 
"It's also a way to wake people up to say this is serious now, and we have to do something." 
_Click the player above to hear Rosen discuss her goals and suggestions for alternative travel with the Raw Politics panel. _