Here's how much your country spends on your healthcare
Comments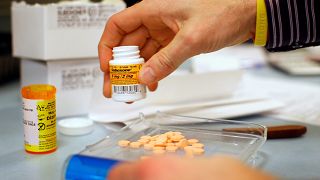 -
Copyright

REUTERS/Brian Snyder/File Photo
Luxembourg topped the EU ranking for highest healthcare expenditure per inhabitant in 2016, spending some €5,600 per head, Eurostat revealed on Thursday.
The latest figures from the EU's official statistics agency, Eurostat, show that healthcare expenditure per inhabitant was €5,000 or higher in three EU member states in 2016.
Luxembourg was found to be the most generous with €5,600 spend on each of its 590,000 inhabitant. Sweden and Denmark completed the podium, spending €5,100 and €5,000 per capita respectively.
On the other end of the spectrum, the three countries with the lowest healthcare expenditure per head in 2016 were Poland (€700), Bulgaria (€600) and Romania (€400).
It's worth noting though that Switzerland and Norway, which are not EU member states spent considerably, and would have topped the EU chart. 
The ranking looks completely different when delving into healthcare expenditure as a percentage of GDP, where Luxembourg comes in second to last.
The small land-locked country's spending on healthcare accounted for 6.2% of its GDP. Only Romania spent less with 5.8% of its GDP going towards the health of its citizens.
Topping the ranking are France, which spent 11.5% of its GDP on healthcare in 2016, followed by Germany (11.1%) and Sweden (10.9%).
Switzerland still did better with 12.3%.