EU Health report: we're living longer but the pay-gap and mental health still cause for concern
Comments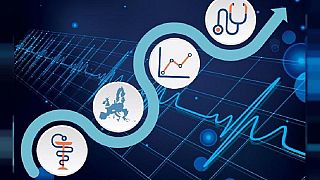 Europeans are living longer but the increase in their life expectancy has slowed since 2010, according to a study undertaken by the OECD and supported by the European Commission.
The State of Health in the EU Cycle report, updated every two years, has identified mental health and the health gap between rich and poor as two areas where there remains a particular need for improvement.
The study compares medical data from across all EU countries as well as Norway, Switzerland, Iceland and Turkey. An interactive country-by-country guide shows which are performing above and below the EU average.
Life expectancy
On average, Europeans now live until the age of 81. The longest living among them are in Switzerland (83.7 years), Spain (83.5) and Italy (83.4), while it is in Eastern Europe where life expectancy is lowest, falling below 75 years in Bulgaria, Latvia and Lithuania.
Women can expect to live longer: the life expectancy for EU women is 83.6 years, while for men it is 78.2 (see chart below). This gender gap has narrowed since the turn of the century, when men's life expectancy started to increase more rapidly. The gender gap is particularly wide in Latvia and Lithuania, where women typically live 10 years longer than their male compatriots.
The report's authors suggest Europe's gender gap is "partly due to greater exposure to risk factors among men, particularly greater tobacco consumption, excessive alcohol consumption and less healthy diet, resulting in higher death rates from heart diseases, various types of cancer and other diseases."
The study also discerns between 'healthy life years' and years spent with 'activity limitation'. For example, a 65-year-old Swedish woman can expect to live another 21.5 years, and enjoy good health for around 17 of those. A 65-year-old Slovak man on the other hand could look forward to another 15.3 years of life, but only four of those years, on average, would be spend in good health (see chart below).
Feeling good? Money helps...
Ireland has the highest proportion of people who say they feel in good health (83% of over 16s reported this), while the country that feels the least healthy is Lithuania, where only 43% of over 16s say they feel healthy.
It is in self-reported health, the percentage of people saying they are healthy, where a large disparity is evident between higher and lower income groups. In every country surveyed, high-income respondents are more likely to say they feel healthy than low-income respondents: on average in the EU, 60% of low-income over 16s say they're healthy, a figure that rises to 78% among high-earners.
Mental health
The study highlights mental health as an area needing concerted efforts across Europe. One in six Europeans claim to have had mental health issues in 2016 - that's 84 million people. More than 84,000 deaths in Europe in 2015 were attributed to suicide or mental health issues. There is also a monetary as well as a human cost: the report estimates that mental health problems are responsible for a loss of more than 4% in the EU's GDP, around 600 billion Euros.
There are gender differences in the mental health data; women are more likely to report chronic depression than men, for example, whereas men are more than likely than women to commit suicide in all 28 EU countries.
There are also geographical trends: mental health issues are more widely reported in Western Europe and Scandinavia than they are in Central and Eastern Europe (see figure below). This runs contrary to physical health; Western Europeans report better physical health than their Eastern counterparts. The authors of the report offer an explanation:
"Some of these cross-country differences may be due to the fact that people living in countries with greater awareness and less stigma associated with mental illness, as well as easier access to mental health services, may be diagnosed more easily or may be more likely to self-report mental ill-health. In many countries, there is still strong stigma associated with various mental health problems, and in some countries this stigma sits alongside a still-widespread belief that it is better to simply avoid talking about mental illness."
Health Risk Factors
Tobacco, alcohol, drugs, obesity, pollution and bad weather are identified as the major risks to health. Of these, tobacco is the worst offender, says the report:
"Tobacco consumption is the largest avoidable health risk in the European Union and the most significant cause of premature death, with over 300 000 deaths per year according to IHME estimates (IHME, 2018). Around half of smokers die prematurely, dying 14 years earlier on average."
Fewer European adults are daily smokers than in 2006, with the exceptions of Austria and Slovakia. There has been a significant decrease in the number of daily smokers in Greece (down from 40% in 2006 to 27% in 2016), Albania and Norway among others.
A gender gap appears also in tobacco use; across EU countries an average of 30% of men are daily or occasional smokers, compared to 22% of women. There are only two countries, Sweden and Iceland, where more women smoke than men.
Passive risk factors are also identified as a concern by the study, which claims that "exposure to some serious air pollutants such as fine particulate matter 2.5 (PM2.5) and ozone is estimated to have caused the death of 238 400 people in 2016." Central and Eastern Europe are the most adversely affected of EU countries (see map below).
Healthcare efficiency
The report claims that "Evidence from various countries suggests that up to one-fifth of health spending is wasteful and could be reallocated to better use."
Many hospital admissions could, it suggests, be avoided with better management of chronic conditions. Potentially avoidable hospital admissions for asthma and diabetes in particular could cost up to 37 million bed days per year across the EU.
Pharmaceutical costs are one area in which savings can be made, with the use of generic and bio-similar drugs, more rational prescribing by doctors and getting better value for money thanks to technological assessment of patients.