Extreme Brexit could be worse for UK than financial crisis, says Bank of England
Comments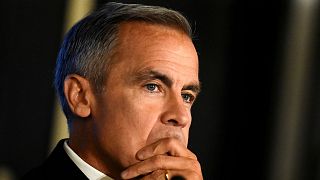 The Bank of England has warned that the UK's economy could shrink by 8% in the event of a "disorderly" no deal Brexit.
The central bank said on Wednesday that the UK risks suffering an even bigger hit to its economy than during the global financial crisis 10 years ago if it leaves the European Union in this worst-case Brexit scenario.
It added that there would be a 25% drop in the value of sterling, a spike in inflation to 6.5% and a jump in interest rates, while house prices would fall by around 30%.
A "disruptive" Brexit, with goods flowing across borders but facing tariffs and other barriers, would cause a 3% fall in GDP (gross domestic product), the central bank warned.
"Our job is not to hope for the best but to prepare for the worst," Bank of England Governor Mark Carney told reporters at a news conference.
The report came hours after the British government issued its own warnings about Brexit, which found that the UK's economy would be significantly worse off 15 years after Brexit, no matter what kind of deal it clinches with the EU,
British lawmakers are set to vote on a draft Brexit agreement with the EU on December 11.