Should Spain and Portugal welcome Chinese investment? | Raw Politics
Comments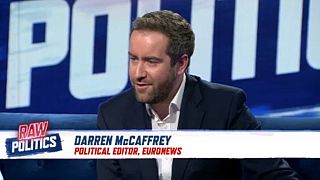 Chinese President Xi Jinping is eyeing up investment opportunities in Spain and Portugal, as he visits the two countries as part of a global tour.
But with concerns from the EU over the threat of China hollowing out Europe's strategic assets and human rights issues in the Asian country, there is debate over whether Spain and Portugal should be courting this investment.
"Should Europe turn down Chinese investment? I'm not entirely sure it should. Does it have to be cautious? Yes it does" said Euronews Political Editor Darren McCaffrey. 
_Get all the details on Xi's trip to Spain and Portugal and concerns over Chinese investment by clicking on the video above. _