Europe briefing: Russia-Ukraine tension, Brexit economic assessment and Greece strike
Comments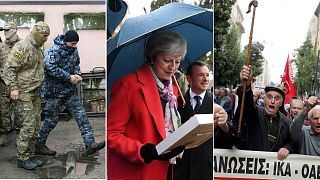 1. 'Get out' — Ukrainian president asks Trump to deliver message to Putin
The president of Ukraine has a message that he wants US President Donald Trump to personally deliver to his Russian counterpart, Vladimir Putin, at the upcoming G20 summit in Argentina:
"Get out of Ukraine, Mr Putin," Petro Poroshenko said on Tuesday.
Poroshenko made the comments in a one-on-one interview with NBC News' Richard Engel, which was conducted two days after Russian forces sparked an international crisis by attacking and seizing three Ukrainian vessels that were trying to pass through the Kerch Strait, a narrow artery that connects the Black Sea to the Sea of Azov.
2. Trump could cancel G20 talks with Putin over Ukraine
US President Donald Trump said he could be forced to cancel a meeting with Russian President Vladimir Putin over an at-sea clash between Russia and Ukraine.
Trump told the Washington Post he was waiting on a "full report" on the maritime dispute during which Russia fired at and captured three Ukrainian vessels on Sunday.
The leaders were set to meet later this week during the G20 summit in Buenos Aires.
Moscow responded that Washington had not informed the Kremlin that a meeting was cancelled and that it was still being prepared.
3. Brexit economic assessment
The Bank of England and the British government will deliver their assessments of the economic impact of Brexit later on Wednesday.
4. May in Glasgow
British Prime Minister Theresa May was set to continue her tour of the UK in Glasgow on Wednesday, in a bid to convince Scotland of the merits of her Brexit deal.
5. British politician questions Facebook over Russian data collection
A British lawmaker alleged on Tuesday that seized documents from Facebook show that a company engineer identified a major data collection effort based in Russia that had been previously undisclosed.
Facebook, however, later released the emails in question that appeared to show the initial concern was a false alarm.
Damian Collins, the British lawmaker who chairs a parliamentary committee investigating disinformation and the use of people's data, asked during a hearing on Tuesday whether the company had reported to any "external body" that a Facebook engineer had told the company in October 2014 that computers with links to Russia were collecting "over 3 billion data points a day" through a Facebook access point.
It was not immediately clear what information was taken or how the data could have been used.
6. Polling stations open for Georgian elections
Two giants of Georgian politics will go head-to-head on Wednesday when the country votes for a new president.
While neither is on the ballot, the poll is effectively a choice between Mikheil Saakashvili — who last month told Euronews he wants to return to Georgia and clear his name — and billionaire former prime minister Bidzina Ivanishvili.
READ: Georgia's presidential election — all you need to know as Saakashvili eyes comeback
7. Greece strike
Greece's largest labour union, the GSEE, on Wednesday staged a 24-hour strike against the government's labour policy.
Here's how events unfolded: