Ukraine introduces martial law amid crisis with Russia
Comments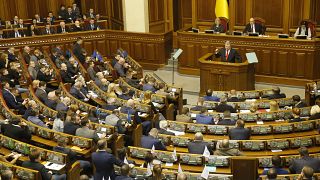 Ukraine's parliament has backed imposing martial law for 30 days in parts of the country, in response to Russia's capture of three Ukrainian naval vessels over the weekend.
Russian ships also took crew members prisoner. Ukraine said it was a Russian "act of aggression", but Moscow said the ships had illegally entered its waters.
Russian Foreign Minister Sergey Lavrov spoke about the situation on Tuesday in Paris after a meeting with his French counterpart Jean-Yves Le Drian. He said it was the subject of a discussion between Russian president Vladimir Putin and the German Chancellor Angela Merkel.
"They came to a certain understanding, which, I think, will be implemented shortly. I don't see any necessity in any intermediaries."
"If the Ukrainian side and its partners don't want this incident to be repeated, a very strong message must be sent to Kiev by those who maintain tight contacts with with the Ukrainian authorities, so that such provocations (Ukrainian boats "trespassing Russian borders") never occur again," Lavrov said, adding that dialogue between the two sides was possible.
Lawmakers in Kyiv approved martial law after President Petro Poroshenko reassured some sceptics that it would not be used to curb civil liberties or delay next year's election.
"This is one of the reasons why many of the parliamentarians wanted to oppose the project of martial law," Sebastien Gobert, a freelance journalist based in Ukraine told Good Morning Europe.
"We see that it's not going to be the case, it's not going to affect the elections at least as we speak now, because just a few minutes after the parliamentarians voted for the implementation of the martial law they also voted for a law that establishes that the elections will be held on the 31st of March," Gobert added.