Italian Budget: Senate finance committee to stick to high-spending budget plans
Comments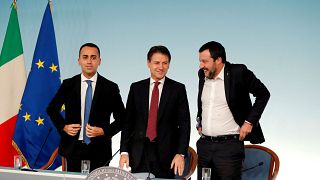 The Italian budget is proving to be another political talking point that's dominating the European agenda at the moment.
The chair of Italy's finance committee says there is 'no reason' for Italy to change its spending habits, despite growing pressure from the EU.
"Our country, regardless of what it wants to do, is headed by a government that has political views which are different from those of the (European) Commission and the Commission is trying to fight it," economist Aberto Bagnai told state radio.
"This attitude is derailing the whole European project.
There are neither political nor economic reasons to modify the structure of the budget," said Bagnai, who described the euro currency as an "economic monster" in a book he wrote in 2012.
With the second highest public debt in the Eurozone, Italy has been in a deadlock with Europe over the country's budget.
But Prime Minister, Giuseppe Conte, who held talks with deputies Matteo Salvini and Luigi Di Maio on Monday, said the objectives for 2019 had already been fixed.
However, Deputy Prime Minister Di Maio hinted earlier that the government might be willing to cut the deficit target a little.
"If during the negotiating process, the deficit has to be reduced a bit, that's not a big deal."
Italian bonds rallied on Monday after reports that Italy's ruling coalition was bowing to pressure from the European Union and may reduce next year's budget deficit target.
But in a joint statement later on Monday, the three men appeared to take a tougher line, saying: "The objectives that have already been fixed are confirmed."
The European Commission has threatened to impose fines unless it revises its plans.
Euronews correspondent, Giorgia Orlandi, explains why the Italian senate's finance committee are sticking to their high-spending budget plan.