'Gilets jaunes' appoint delegation to negotiate tax hikes with French government
Comments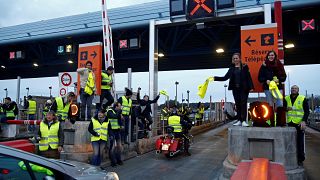 As roadblocks led by the 'gilets jaunes' (yellow vests) continued across France for the 10th day, a delegation of "eight official spokespeople" was created to establish "serious and necessary contact with the government", according to a statement released by the group on Monday.
After consulting their followers on Facebook, the delegation said it had two main demands to make to the government:
1. To "review the decrease of all taxes," including fuel taxes.
2. To enable the creation of a "citizen assembly" to debate legislation pertaining to France's ecological transition alongside government representatives.
READ: Taxes fuel protests in France — what do the French think?
The group also demanded that the government take citizens' opinions more into account in its decisions; the rise of purchasing power; and increased efforts in the fight against precarity.
The delegation also asked to meet with French President Emmanuel Macron and Prime Minister Edouard Philippe "within a reasonable delay," said the statement.
"In the absence of a meeting or serious proposals during this possible exchange, actions will continue and will be reinforced until a concrete solution is found."
The government's spokesperson, Benjamin Griveaux, said he was "open to dialogue" but that if proposals amounted to the resignation of the president, "they would not be able to respond favourably."
Macron is set to address the public regarding the 'gilets jaunes' on Tuesday.