Swiss 'say no' to more sovereignty — and cow horns — in referendums
Comments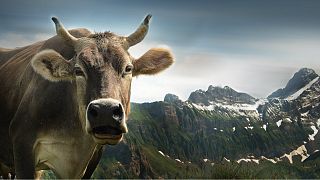 Early results suggest Swiss voters have rejected a proposal to give domestic laws precedence over international statutes, an outcome which critics said would compromise its global agreements and damage its economy.
Around 67% of voters so far have gone against the 'Swiss law, not foreign judges' measure on Sunday, while 33% supported it, according to projections by national broadcaster SRF.
The proposal was put forward by the right-wing populist Swiss People's Party (SVP) – the largest party in Bern's Federal Assembly – but was opposed by the government.
The SVP said it would empower citizens and give them a greater say in Switzerland's future, whose sovereignty is, according to the party, being eroded by international bodies like the European Union and United Nations.
But if it were accepted, politicians and business people critical of the measure said it would mean global agreements be amended so they complied with the Swiss constitution, or be thrown out altogether, forcing thousands of international treaties to be renegotiated.
The public also voted down a measure to subsidise farmers who allow their goats and cows to grow their horns.
Under Swiss law, popular initiatives need at least 100,000 signatures before they can go to a referendum.