Czechs protest for the prime minister's resignation
Comments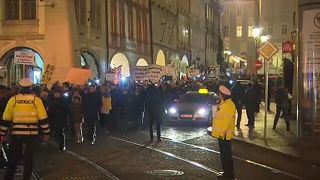 Thousands of Czechs protested in Prague on Friday chanting "We want a decent government".
It's after the government survived a vote of no-confidence.
It was called to try to dismiss Prime Minister Andrej Babis over a fraud investigation.
These people were downhearted about the result. "I'm disappointed that government remains, really disappointed, upset. It is unacceptable that a government with such a person in front of it didn't fall."
"More and more of the public is against the prime minister. So it is better to continue without him".
Only 92 of the opposition lawmakers voted to oust the Cabinet, nine votes short of the 101 needed.
The prime minister faces charges of misusing EU subsidies for a firm he transferred to relatives including his son. Andrej Babis Junior says he was deliberately kept in the Russian-annexed Crimea to avoid being questioned about it. The prime minister says his son was there voluntarily and denies all wrongdoing.