Watch: EU Parliament chief smears lipstick on face to denounce violence against women
Comments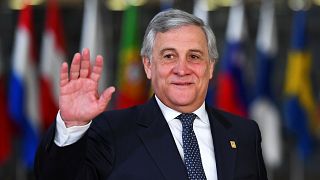 -
European Parliament President Antonio Tajani demonstrated his support for the thousands of people worldwide who took to the streets this weekend to denounce violence against women by drawing a line on his face in red lipstick.
The Italian politician, 65, smeared red lipstick under his right eye during a press conference on Sunday in Brussels, where European leaders were gathered to approve the draft Brexit deal.
The gesture is intended to draw attention to domestic violence.
"Violence against women is one of the vilest acts that can be committed by a man," Tajani told reporters.
"In physical terms, men have more strength but they are not superior in terms of their culture, in terms of their rights and social terms. And this is why I chose to sign up to this action," he added.
Many footballers in Italy replicated the gesture on Sunday to mark the UN's International Day for the Elimination of Violence against Women, including Cristiano Ronaldo.
According to UN data, a third of women worldwide have been subjected to physical or sexual violence and one in ten girls has been raped or sexually assaulted.
The European Parliament building was also lit up in red to express solidarity with women.