Novichok police officer 'lost everything' after contaminating his house
Comments
By Yuliya Talmazan with NBC News World News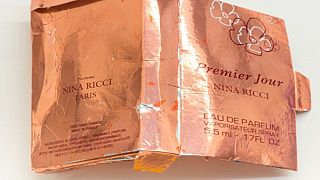 Copyright

Metropolitan Police

-
LONDON — A British police officer at the center of the Sergei Skripal spy saga says his family "lost everything" because he inadvertently contaminated their home with toxic nerve agent Novichok.
In his first interview since the poisoning, Det. Sgt. Nick Bailey recounted how he was the first officer to enter Skripal's house in Salisbury, England, after the double agent and his daughter Yulia were found unconscious on a bench on March 4.Even though he was wearing a full forensic suit at the time, Bailey started feeling unwell a short time later."My pupils were like pinpricks. And I was quite sweaty and hot," Bailey told the BBC's "Panorama" program.Unaware a deadly nerve agent was at play, Bailey returned back home, assuming he felt ill because he was tired and tried to sleep it off.Bailey was rushed to hospital the following day, where he spent weeks fighting for his life."It was horrendous," Bailey recalled. "I was confused, I didn't know what was going on and it was really, really frightening."Authorities later determined that the Skripals were poisoned with Novichok, one of world's deadliest nerve agents. Police believe the substance was sprayed on the door handle of Skripal's house.
News
Since the poisoning, Bailey's family has been unable to return to their contaminated home."Not only did we lose the house, we lost all of our possessions, including everything the kids owned," he said. We lost all that, the cars ... we lost everything. And yeah, it's been very difficult to kind of come to terms with that.""Panorama" quoted the officer is in charge of the Skripal investigation as saying the nerve agent remaining in the counterfeit perfume container that was used to poison the ex-spy and his daughter could have killed thousands of people.
A bottle with Novichok in it was recovered after another U.K. poisoning that turned deadly in July."When we found it, there was a significant amount of Novichok containment in the bottle," said Depty Assistant Commissioner Dean Haydon, the senior national coordinator for counterterrorism policing. "The amount that was in the bottle and the way it was applied to the Skripal home address was completely reckless."In the aftermath of the incident, U.K. Prime Minister Theresa May said it was highly likely Russia was responsible for the attack — an allegation Moscow has vehemently denied.In September, British authorities charged two men in absentia. Both are believed to be Russian spies.
Days later, the duo came forward and gave an interview to state-funded RT, claiming to be tourists who were interested in seeing Salisbury Cathedral and its historic clock."Our friends had been suggesting for a long time that we visit this wonderful town," one of the suspects said when asked about what investigators say was a 60-hour visit to the U.K.