Suicide bomber on motorcycle kills 25 shoppers at market in Pakistan
Comments
By Mushtaq Yusufzai and Reuters and Associated Press with NBC News World News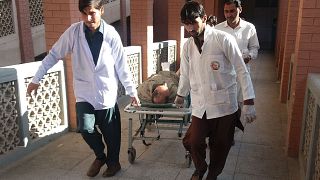 -
PESHAWAR, Pakistan — A suicide bomber on a motorcycle targeted shoppers in a remote part of northwest Pakistan, killing at least 25 people and injuring 20 others.
The attacker detonated his explosives in the town of Kalaya, senior local government official Abbas Khan told NBC News.
"People from nearby villages come to this this market town every Friday morning for shopping and to sell their products," he said. "There was a huge gathering of local people when the suicide bomber riding a motorcycle entered and blew himself up."
No group immediately claimed responsibility for the attack.
The blast occurred at around the same time that armed separatists stormed the Chinese Consulate in Pakistan's southern port city of Karachi.
Kalaya has a large population of Shiite Muslims, a minority in Pakistan that has been increasingly targeted by Sunni extremist groups such as the Islamic State and the Pakistani Taliban. Sunnis and non-Muslim Sikhs were also among the victims, according to Khan.
Government officials said that death toll could rise as some of the injured were listed in critical condition.
The district of Orakzai, where Kalaya is located, was for decades a refuge for Islamist militants fighting across the border in Afghanistan. More recently it has been a home for many who are battling against Pakistan's government.
Pakistani security forces increased operations along the border in 2009 and have cleared some areas of fighters.