Forget Gibraltar — new 'cheese churros' are causing tension between the UK and Spain
Comments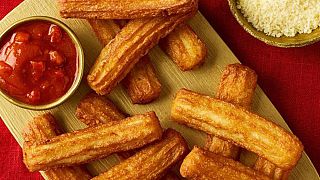 Relations between the United Kingdom and Spain have been frosty following a threat from Spanish Prime Minister Pedro Sánchez to veto the agreement on Brexit over Gibraltar.
But that is not the only thing causing a stir between the two nations.
British supermarket Morrisons sparked outrage among Spanish social media users when it announced the release of cheese churros as part of its Christmas range.
Morrisons' savoury churros are filled with melted cheese and accompanied by a red pepper sauce.
Fiona Govan, editor of The Local in Spain, shared news of Morrisons' cheesy churros on Twitter, writing: "wait until Spain hears about this..."
The post was soon filled responses from Spanish social media users who saw the Morrisons recipe as an affront to one of their national foods.
"Stay with Gibraltar but do not do this, please", one said.
"Wars have been declared over less," another wrote.
Twitter user Arturo Collins blamed Sanchez's veto on the Brexit deal for Morrisons' new dish.
Many social media users joked that Morrisons' take on the dish was "blasphomous".
Some also argued that the product couldn't even rightfully be called a churro.
The traditional churro is a mixture of flour, water and salt, while the Morrisons dish is made with mashed potatoes, tapioca puree and some corn.
Euronews has contacted Morrisons for comment on the backlash.
More social media reactions