EU nationals in UK fear post-Brexit future
Comments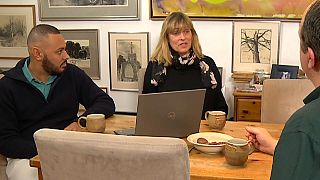 The withdrawal agreement between Britain and the European enshrines the right to stay for EU nationals living in the UK. But in the case of no deal their status could be called into question - and the climate of uncertainty is unsettling for many.
EU citizens already living and working in the United Kingdom are getting increasingly worried about what will happen to them at the end of all the political turmoil.
Among them German national Susanne Sahmland, who's been living in the UK for more than three decades. A school teacher for most of it, now she's a university lecturer in London.
Susanne – a mother of three - already has leave to remain, but fears that won't be enough.
"I feel very much part of the community here, and I'm active in the community as well. I sing in the church choir. I feel very sad. It makes me feel very very sad that suddenly I've become an outsider."
Frederik Bowling, Susanne's son says: "To be honest, the way that things are looking in the recent news, it sounds a lot like Brexit's not going to happen at all, and that's what I'm really hoping for."
Theresa May's vowed to end free movement after Brexit, one of the key demands from voters in the referendum. She told the CBI recently: "Once we've left the EU, we will be fully in control of who comes here. It will no longer be the case that EU nationals regardless of the skills or experience they have to offer, can jump the queue ahead of engineers from Sydney or software developers from Delhi."
For Susanne and another of her sons, Samson, it's a difficult watch.
"I know my mum's German, but to me she doesn't even have a German accent. And so, to hear all of a sudden that she's a foreigner, that she is doing all of these things that Theresa May says that she's doing just… it just doesn't make any sense."
"It is very unfair," sys Susanne. "Because I… I have been here for 35 years and I have contributed to this country for so long and I think you know the people who've been here, the EU nationals who've been here, they are the citizens of this country and I think that you can't just suddenly say after 35 years, please go."
For leavers, Brexit is all about taking back control of Britain's borders. But for EU migrants who've made the UK their home, it's a nightmare – one that's left them feeling anxious and isolated.