Ads deemed too controversial to air | Raw Politics
Comments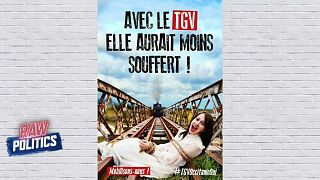 A court in France has ruled that an advertising poster showing a woman about to be hit by a steam train does not promote violence against women.
While the advert was deemed legally acceptable, several others have been banned in Europe in recent months.
These include one for a dating website matching younger women to wealthy older men, which was banned from Brussels for inciting prostitution, and Iceland's Christmas advert about palm oil, which the British Ombudsman said was too political.
The panel on Euronews' Raw Politics programme discussed this in tonight's episode. You can watch the full discussion on the politics of advertising in the video player above.