Raw Politics: Italian budget, jailed British student, US-Saudi support
Comments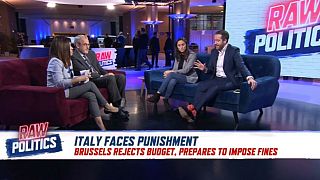 On Raw Politics this Wednesday:
EC prepares to react to Italy's defiance of debt-laden budget
The Italian government continues to defend its high-debt budget proposal following its Brussels rejection. The Commission is preparing to take the first step towards disciplinary procedures against Italy which could lead to fines.
British student sentenced to life in prison in UAE
A PhD student at Durham University in England, Matthew Hedges, has been sentenced to life in prison in the UAE after being charged with spying. The panel deliberates over how the move will trigger a geopolitical response.
US President 'stands by' Saudi Arabia
US President Donald Trump released a statement of support for Saudi Arabia Tuesday and says the US 'stands by' them. His support for Riyadh comes amid global outrage over the killing of journalist Jamal Khashoggi, while millions continue to suffer in Yemen with fighting between the US-backed Saudi-led coalition and Iran-backed Houthi rebels.
Other topics discussed on this programme include an exclusive interview with Irish Foreign Minister Simon Coveney, with guests including German MEP Helmut Scholz and the Sunday Times' Andrew Byrne.