EU Brexit summit: Which countries have an issue with the draft deal? | Raw Politics
Comments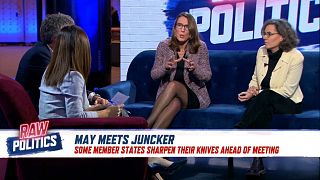 A trio of EU states have been voicing their objections to a draft Brexit agreement between London and Brussels.
France is concerned about fishing rights; the Netherlands competitive advantages; and Spain wants assurances about Gibraltar.
You can learn more about their objections in the panel discussion from Euronews' Raw Politics show on Wednesday, which featured French MEP Christine Revault d'Allonnes-Bonnefoy and Danish MEP Morten Løkkegaard. 
EU leaders are set to meet on Sunday to endorse the Brexit deal but it will still have to be ratified by parliaments.
It comes as UK Prime Minister Theresa May visited EU chief Jean-Claude Juncker in Brussels on Wednesday to thrash out the UK's post-Brexit relationship with the bloc. Progress was made in the talks but May will return on Saturday.