Three out of four Europeans say the euro is a good thing | Raw Politics
Comments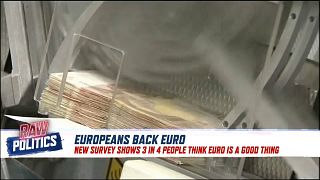 A large majority of people in all 19 eurozone countries think the euro is a good thing, an annual Eurobarometer survey has found.
The highest "good" mentions for the euro came from Ireland, Luxembourg, Slovenia and Spain — all above 80%.
Citizens taking part in the survey in Cyprus, Italy, Belgium and France were the least convinced, but overall, there is a majority in favour of the common currency in all 19 countries.
The survey polled around 17,000 people in the eurozone. Of those, 64% said the currency is good for their nation.
Watch today's expert panel discuss this in the video player above.