Chicago hospital-shooting suspect had been kicked out of fire academy for alleged aggressive behavior toward women
Comments
By Phil Rogers and David K. Li with NBC News U.S. News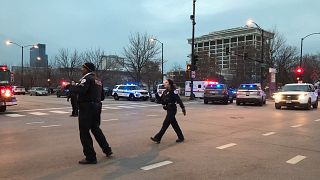 -
CHICAGO — The man who allegedly killed a woman doctor he had been involved with, and then gunned down a police officer and a pharmacy resident at Mercy Hospital, had been booted from the city's fire academy for inappropriate behavior toward women, officials told NBC Chicago
Juan Lopez entered Chicago's firefighter-training academy on March 17, 2014, and was terminated by May 22, officially for not showing up to respond to claims of aggressive and inappropriate behavior toward women, authorities said.
"In the end, he didn't show up, was called to respond, and he was fired," fire department spokesman Larry Merritt said.
Lopez, 32, is the alleged shooter who gunned down Dr. Tamara O'Neal, 38, as she was leaving her shift at Mercy Hospital and Medical Center on Monday afternoon, officials said.
He is also suspected in the fatal shooting of responding police officer Samuel Jimenez, 28, and pharmacist resident Dayna Less, 24. Lopez was also killed in the gunfire though it wasn't immediately clear if he was shot by police or if he took his own life.
The tragedy could have been even worse, but for a stroke of luck — one of the shooter's bullets hit another responding police officer, but it slammed into that officer's holstered pistol and he was not wounded, a Chicago police spokesman said Tuesday.