Raw Politics: Brexit deal, 'rake news', French fuel tax protests
Comments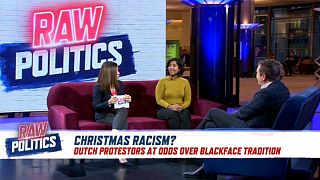 This Monday on Raw Politics:
Brexit Chaos as May promises to deliver deal
UK Prime Minister Theresa May is continuing a media blitz amid chaos over the controversial draft Brexit deal which triggered two Cabinet resignations last week.
This afternoon, May doubled down on the draft deal, telling business leaders at a conference that she will deliver.
Finnish President hits back at 'raking leaves' suggestion
After wildfires ravaged California, US President Donald Trump quoted a conversation with his Finnish counterpart saying that Niinistö suggested that raking leaves in forests could help prevent the spreading of wildfires.
However, Niinistö came out to say that he does not recall making such a suggestion, sparking an internet frenzy with hashtags such as 'rake news' and 'rake America great again'.
French fuel protests continue
French President Emmanuel Macron headed to Brussels on a two-day trip, while fuel protests continue across the country over price hikes.
Other topics discussed include the Asia-Pacific Economic Cooperation and their 'silly shirt' photo-op with guests including journalist Pauline Bock and Friends of Europe's Shada Islam.