Guatemala issues red alert as Volcan de Fuego awakens
Comments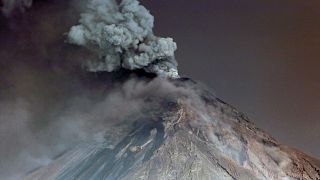 Nearly 4,000 people were evacuated on Monday from areas around Guatemala's Volcan de Fuego, which began violently erupting overnight, the country's disaster agency Conred said.
The eruption marks the fifth time this year — a month after the most recent one.
On June 3, a lava flow down the crater destroyed the village of San Miguel Los Lotes, killing nearly 200 people and leaving 235 missing.
As a precautionary measure, 2,995 inhabitants of Escuintla, Sacatepéquez and Chimaltenango departments, near the volcano, were evacuated to safer areas, according to David de Leon, spokesman for Conred.
Since the eruption began on Sunday morning, lava has been projected 500 metres above the crater, topped by a column of ash more than a kilometre causing a rain of particles, according to the Institute of Volcanology.
The volcano peaks at 3,763 metres, 35 kilometres from the capital, Guatemala City.
A previous eruption on October 12 and 13 caused the evacuation of 62 people.