Femen stage anti-fascist protest on Franco anniversary
Comments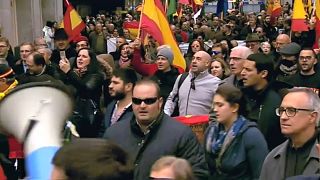 Feminist activists have disrupted a rally by far-right supporters of former Spanish dictator General Francisco Franco, commemorating the 43rd anniversary of his death.
Three members of the Femen collective plunged half-naked into the rally, with the slogan "legal fascism, national shame" written over their breasts.
"We believe that fascism is not to be debated, it is to be smashed," Femen leader Inna Shevchenko tweeted about the action.
Police moved in and arrested the activists, who were surrounded by around 200 far-right supporters chanting "Franco, Franco" and insulting them. Several other arrests were made.
Franco ruled Spain from the end of the Spanish Civil War in 1939 until his death on November 20, 1975.
During his rule, tens of thousands of his enemies were killed and imprisoned in a campaign to wipe out dissent. It is estimated that as many as 500,000 combatants and civilians died in the preceding civil war, which split the nation in two.
However, Franco still has supporters in the country, who commemorate the anniversary of his death every year.
This year's commemoration came at a time of tension, following the Spanish government's decision to transfer the dictator's mortal remains, problems in Catalonia and the take-off of nationalism with the extreme right-wing Vox party.
The pro-Franco demonstrations, until relatively recently, were well-attended but are now seen as offensive by some, and an unwelcome reminder of the past by many.
However, this could be the last anniversary of Franco's death to be marked, as the European Parliament approved a resolution in October that outlaws organisations that glorify a dictator and their crimes, such as the Francisco Franco Foundation.