Andrej Babis EU funds scandal: Czech protesters use revolution anniversary to call for PM to quit
Comments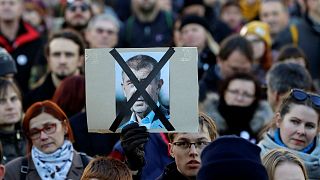 Thousands marched to call for the Czech Republic's billionaire prime minister to quit amid an EU funds scandal.
The protests against Andrej Babis dominated commemorations marking 29 years since the fall of communism.
It comes after demonstrations in neighbouring Slovakia on Friday calling for an improved political culture.
In the Czech capital Prague on Saturday, tens of thousands of people gathered to call for Babis' resignation.
Babis has been battling police charges he manipulated the ownership of one of his firms a decade ago to qualify for €2 million in EU development subsidies.
"Resign! Shame!" shouted the protesters.
The scandal took a new twist last week when news portal Seznam Zprávy published an interview with Babis' son.
Andrej Babis Jnr, during what appeared to be a hidden camera interview, said he'd been sent to Crimea so he would not be called as a witness in the corruption probe, called 'Stork Nest'.
Babis denied the allegations and said his son — who now lives in Switzerland — is mentally ill and had left the Czech Republic voluntarily.
Opposition parties have called a vote of no confidence in Babis' cabinet, which is expected to be held next Friday.
The centre-left Social Democrats, a government partner of Babis' ANO party, are considering whether to withdraw support, although a party source said a number of its MPs were leaning toward staying.