'We want a decent Slovakia,' demand protesters in Bratislava
Comments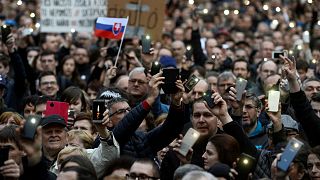 Protesters used the anniversary of communism's fall to call for change to Slovakia's political culture.
Thousands hit the streets of Bratislava to demonstrate on the eve of a national holiday to remember the 1989 Velvet Revolution.
The group behind Friday's protests — For A Decent Slovakia — are angry about alleged corruption and the murder of journalist Jan Kuciak.
Kuciak, who had been working on a story on EU subsidy fraud by politically-connected business people, was killed in February.
The murder sparked mass demonstrations and the resignation of Prime Minister Robert Fico.
Fico, who remains chairman of the ruling Smer party, angered protesters with an attack on the media on Tuesday.
He released a video message addressed to "the clowns in the media" and told them: "We will win the general elections again and I hope it hits ... you really hard."
In Slovak, "hit" can mean "impact" as well as "shoot".
A day later, more than 300 journalists wrote an open letter saying Fico's words made them a target and appeared to be a reference to the murder of Kuciak.
For A Decent Slovakia said activists had faced "incomprehensible intimidation" since the March protests and been accused of pushing for a coup d'état that had been paid for from abroad.
On Friday, the crowds chanted "We want a decent Slovakia" and "We are here for free, nobody paid for us to come", according to media reports.