North Korea to deport American it claims was working for CIA
Comments
By Associated Press with NBC News World News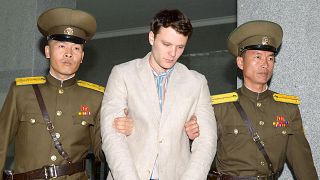 -
SEOUL, South Korea — North Korea said Friday that it will deport an American citizen it detained one month ago for illegally entering the country.
The announcement suggests that North Korea still wants to maintain the mood for dialogue with the United States despite stalled nuclear diplomacy. In the past, North Korean often held American citizens it arrested for similar charges for an extended period before high-profile U.S. figures travelled to Pyongyang to secure their freedom.
On Friday, the Korean Central News Agency said the U.S. citizen was detained on Oct. 16 for illegally entering the country from China. It said the U.S. citizen told investigators that he was under the direction of the Central Intelligence Agency.
It said North Korea decided to deport him but did not say why and when. North Korea didn't immediately release the English spelling of the man's name.
In May, North Korea released three American detainees in a goodwill gesture weeks before leader Kim Jong Un's summit with President Donald Trump in Singapore in June. The three Americans returned home on a flight with Secretary of State Mike Pompeo.
Their release was a striking contrast to the fate of Otto Warmbier, an American university student who died last year days after he was released from North Korea in a coma after 17 months in captivity. Warmbier and other previous American detainees in the North were imprisoned there over a variety of alleged crimes, including subversion, anti-state activities and spying.
Warmbier was a rare Western detainee who was released in rough shape — the vast majority of Americans detained by the North came out in relatively good condition. The North has denied accusations that it tortured Warmbier, saying it provided medical care "with all sincerity" as his health worsened and was surprised by Warmbier's death. He had been accused of stealing a propaganda poster.
The United States, South Korea and others have accused North Korea of using foreign detainees to wrest diplomatic concessions. Some foreigners have said after their release that their declarations of guilt had been coerced while in North Korean custody.
After a series of provocative nuclear and missile tests last year that fueled fears of war, North Korea entered talks with the United States and South Korea early this year with a vague commitment to nuclear disarmament. But nuclear diplomacy has reported no major breakthrough since the Kim-Trump summit, the first such meeting between North Korea and the United States.