Saudi prosecutor seeks death penalty for suspects in Khashoggi's killing
Comments
By Reuters and Associated Press with NBC News World News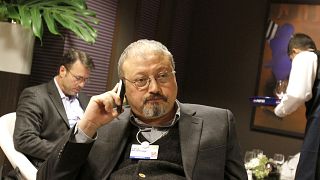 -
DUBAI, United Arab Emirates — Saudi Arabia's top prosecutor is recommending the death penalty for five suspects charged with ordering and carrying out the killing of Saudi writer Jamal Khashoggi.
Saudi Al-Mojeb told journalists in a rare press conference in Riyadh on Thursday that Khashoggi's killers had set in motion plans for the killing on Sept. 29, three days before he was killed.
Khashoggi, a critic of Saudi policy, was killed in the country's Istanbul consulate on Oct. 2 after a struggle by a lethal injection dose and his body was dismembered and taken out of the building, he told reporters in Riyadh.
World
The prosecutor said the highest-level official behind the killing is Saudi former deputy intelligence chief Ahmad al-Assiri, who has been fired for ordering Khashoggi's forced return.
The prosecutor says 21 people are now in custody, with 11 indicted and referred to trial.
Turkey has blamed the highest ranks of power in Saudi Arabia for Khashoggi's brutal death, saying the kingdom sent an assassination squad for him.
Saudi Crown Prince Mohammed bin Salman won support on Tuesday from U.S. National Security Adviser John Bolton, who said he did not think recordings of the killing shared by Turkey implicated the country's de facto ruler.
Bolton said he did not think that people who heard the recordings concluded that the crown prince was linked to the killing. "And certainly that is not the position of the Saudi government," he said in Singapore.
Khashoggi's killinghas provoked global outrage but little concrete action by world powers against Saudi Arabia, the world's largest oil exporter and a supporter of Washington's plans to contain Iranian influence across the Middle East.