Watch: What do people in France think about Trump's Twitter attack?
Comments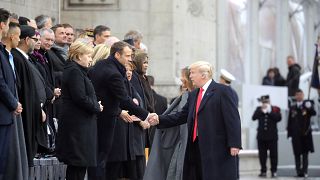 US President Donald Trump's latest Twitter attack on France and President Emmanuel Macron's leadership was met with bemusement and more than a touch of humour on the other side of the pond.
The US leader took to his preferred social media platform on Tuesday to lash out at Macron's proposal to create a European army capable of rivaling Russia, China and the US.
Trump, who was in Paris just two days earlier taking part in events to commemorate the centenary of the Great War's armistice, controversely said: "They were starting to learn German in Paris before the US came along" in World War I and World War II.
He then suggested that the proposal was merely a political ploy by Macron to distract from his "very low Approval Rating in France, 26%, and an unemployement rate of almost 10%" and reignited fears of a trade war over wine.
He ended his tirade writing "MAKE FRANCE GREAT AGAIN!"
What the French think
Euronews took to the streets in Lyon, where the response was one of bemusement.
"I think Mr Trump should re-read his history books. It's rather a disturbing perspective on history," James Jenings told Euronews journalists.
"I think that he should not be in a position of making tweets, in any case, and it's not appropriate in this situation," he added.
Armand Virondeau described Trump's comment as "out of place," highlighting that the European Union had been created to secure peace on the Old Continent.
"That's what we want. We don't want war, between politicians, we just want peace," he told Euronews.
Pierre-Yves Briend conceded to Euronews that Trump's point of view was not to be completely dismissed.
"It's possible that had France's fate been different, as in, if we had lost WWII, that German would have been imposed on us," he said.
Meanwhile, on social media, plenty of French people took exception to Trump's closing remark. The country, they argue, has already regained greatness status thanks to the national football team.
French government responds
For editors at French newspaper Le Monde, the US leader's latest Twitter rant proves that the so-called bromance between Trump and Macron is over and that the French president has now been demoted to "simple ally" status.
At the Elysee Presidential Palace, however, the word of the day on Tuesday was "no comment".
A well-placed source told multiple French newspapers, including Les Echos, that the tweets were first and foremost addressed to the American public and that the relationship between the two president remained strong — they reportedly speak several times a week.
But on Wednesday, the tune had changed a little with government spokesman Benjamin Griveaux deploring the US president's lack of "common decency."
"Yesterday, November 13, we were commemorating the murder of 130 of our compatriots," he said, referring to the coordinated November 2015 terror attacks at the State de France and Bataclan concert hall.
"So I will respond in English: "common decency" would have been appropriate," he added.