Is the Trump-Macron 'bromance' over?
Comments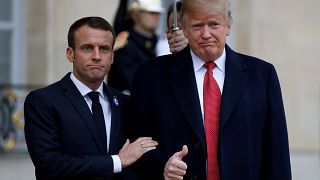 US President Donald Trump and his French counterpart Emmanuel Macron may have enjoyed a special "bromance" over the weekend's Armistice commemoration, but that could be coming to an end after Trump mocked the nation over the world wars.
The US president issued a heavily loaded tweet on Tuesday in which he said the French "were starting to learn German in Paris before the U.S. came along". He also repeated his accusation that Macron had demanded a European army to protect itself against the US.
Trump then took issue with intercontinental trade and said in another tweet that France charges "big Tariffs" on wine imports, but the US makes it "easy" for French wines and "charges very small tariffs".
The US president has long been a critic of the European Union's trade policies.
Trump's latest tweet signalled a wine trade war could be next on the cards. The EU's import tariffs on US wine ranges from $0.11 to $0.29 per 750ml bottle. According to the California-based Wine Institute, the US charges between $0.05 and $0.14 per 750ml bottle.
Trump also took a stab at the French president himself by calling out Macron's low approval ratings, before urging the nation to take a leaf out of his book and "MAKE FRANCE GREAT AGAIN".
The French president has not responded to his US counterpart's tweets. However, bringing up Trump's decision to cancel a visit to an American cemetery outside Paris due to rain, the Armée de Terre posted a picture on its Twitter page of a soldier training in the rain with the words: "It is raining, but it is not serious".
Macron and Trump have enjoyed various moments and celebrations together in which handholding and camaraderie have taken centre stage, but the latest round of Trump tweets could bring the pair to blows.