Pregnant mother shot dead with a crossbow, but her unborn child survived
Comments
By Angel Torres with NBC News World News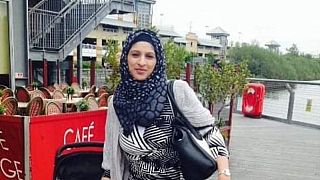 -
A woman who was eight months pregnant was shot dead with a crossbow, but her baby survived and was delivered by an emergency cesarean section, a Metropolitan Police spokesman in the United Kingdom told the Lancashire Telegraph.
Sana Muhammad, 35, was shot with a crossbow bolt Monday morning in Ilford in East London in front of her five children, according to her husband. She suffered an abdominal injury and was taken to a hospital where she later died, authorities said. The crossbow bolt allegedly missed her then-unborn baby by inches, London'sEvening Standard reported.
The suspect, Ramanodge Unmathallegadoo, 50, is believed to be the victim's former partner, the Evening Standard reported, adding that police said no one else is being sought in connection with the attack.
Unmathallegadoo was charged Tuesday morning with murder and is in police custody. He is scheduled to appear in court Thursday.
The victim's husband, Imtiyaz Muhammad, said he saw the suspect with a loaded crossbow when he went to put a cardboard box in the shed at his home, the Standard reported.
"He was going to shoot so I ran into the house," Muhammad told the Standard. "My wife was doing the washing up. I was shouting 'run,' 'run' 'run.'"
News
Authorities have yet to name a possible motive for the killing. Detectives are still investigating, according to the Metropolitan Police statement.