California fire death toll rises to 50
Comments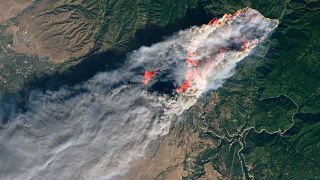 -
In the debris of the California towns that wildfires have destroyed, bodies are still being found. The northern California town of Paradise has been the worst hit— Paradise is a burned out shell of the idyllic town it was before the Camp fire tore through it, and most of the bodies have been found there. The death toll has risen again today to 50 in total and more search teams are being brought in. The Camp fire is now the most destructive wildfire in the state's history, having razed at least 8,800 structures to the ground
CONFUSION OVER THE MISSING
In nearby towns are message boards where lists of names grow every day— names of the missing, the family members and loved ones who haven't turned up in shelters or community gatherings. But confusion reigns as people race to find each other.
"For example, someone has not seen their mother or their father or someone, they've called it in, other people have confirmed, 'oh I haven't seen my friend, I didn't seen them leave the community,'" said Dominic Polido with Cal Fire.
"These different elements that have led people to believe that this person is truly missing. Then they will figure out where that person was most likely to be at the time of the fire and they'll go to that place and look for remains."
Coroners and cadavar dogs are also looking for remains in Paradise.
THE FIRES RIGHT NOW
Meanwhile in both the North and South of the state, fires are still raging, and new evacuations are underway. Firefighters have about 30% of both the Camp fire and the Woolsey fire contained, but don't expect to be fully in control until the end of the month. They're battling high winds in the south that feed the flames,
"The vegetation is as dry as it's ever been recorded before," said Rick Carhart, another Cal Fire public information officer. "The issue that we are running into is pretty much every single ember that flies away from the fire and hits the ground catches on fire."
And in part, the tinder-ready vegetation is due to climate change according to Dr. Tim Brown, a wildfire researcher at the Desert Research Institute and Director of the Western Regional Climate Center.
"The main thing that's changed globally is the warming," Dr. Brown told Good Morning Europe on Wednesday.
"Global warming that's also associated with drying humidity. And vegetation is very responsive to warm temperatures and drier air. So as these fuels dry out, they become much more flammable."
POLITICAL DOGFIGHT
The politics have been heating up along with the fires. Earlier in the week, US President Donald Trump blamed the severity on bad forestry management, and California Governor Jerry Brown fired back by blaming climate change.
"This is not the new normal, this is the new abnormal," said Brown. "And this new abnormal will continue certainly in the next 10 to 15 to 20 years. Unfortunately, the best science is telling us that dryness, warmth, drought, all those things, they're going to intensify."
Trump has since kept his comments to praise for front line workers in California.