Beaujolais Day: What you need to know about France's young wine
Comments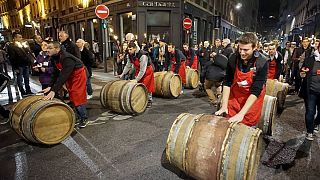 November 15 is Beaujolais Nouveau Day, one of the most important days in France's food and drink calendar.
People across the country will be celebrating the day when bottles of this year's Beaujolais Nouveau wine are for sale.
Here is everything you need to know about the wine and the day people use to celebrate it:
Beaujolais Nouveau is very popular
As many as 28 million bottles of Beaujolais Nouveau are bottled every year. Several million bottles head to the US and some seven million of those are exported to Asia.
It's France's most famous 'primeur'
A primeur is a young wine that is produced fast. Beaujolais Nouveau is on the shelves between six to eight weeks after the grapes are harvested.
The short time span means wine producers have to use special techniques and yeasts to speed up the fermentation process. For this reason, many wine buffs do not like it to be compared to other varieties.
Third Thursday in November
Beaujolais Day started in 1985. It was confirmed that the third Thursday in November would be the release date. 
Wines are transported around the world a few days before but must be kept in locked warehouses until a minute after midnight on Thursday.
The main festival is in Lyon, where casks of Beaujolais Nouveau are pushed by wine-growers through the city centre before being opened.
Where is Beaujolais?
Beaujolais wine is from the historical province of Beaujolais, the wine-producing region to the north of Lyon.
The wine is produced in the northern area of the Rhône department and the southern area of the Saône-et-Loire, which is in Burgundy.
Strict rules for production
Beaujolais Nouveau is made from the Gamay grape. The grapes must come from the Beaujolais AOC and must be hand-picked.
The wine is made using the whole grape without withdrawing bitter tannins from the grape skins.